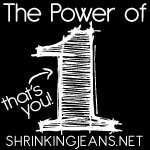 This week: +2 lbs
Overall: -26.8 lbs
This is our first weigh-in for the new challenge over at The Sisterhood. I'm so excited, because I seem to do so much better when there's a challenge on. (So, okay, I didn't really lose much during the last challenge, but I did develop some better habits, which is really important.)
Fine. I'm up. I thought I was doing better this week, but there were a lot of cookies. That's all I'm saying. Mmmmm. Cookies. But, this is a new week. Christmas is over, and I need to just pass the rest of the cookies over to my husband. (Maybe just one more?)
For this initial post, the Sisters wanted us to write down our healthy living goals. I've actually been thinking about these for a few days now, wondering what I wanted to do in the new year, and what concrete things I should be doing to make mine a healthier lifestyle. One big thing is that I don't want to go through another 50-mile bike training session while eating badly – if I'm biking nearly 1000 miles in a year, I should be losing more than 11.8 lbs (though I just had to look that number up, and I'm surprised I actually lost more than 10 lbs this year – I thought I was screwing up even more than that).
Without further ado, here are some of my goals:
Get back to my wedding weight by the end of the year (earlier would be nicer, but I want some slack so I don't freak out and give up). That will be -23.2 lbs by the end of the year, for a total loss of 50 lbs from my peak weight.

(I won't get into how pissed I am about gaining 50 lbs since my wedding. Most of this was "thesis" gain – 40 lbs gained during the last 6-months of writing my PhD thesis. Yet another reason why that whole process may not have been worth it.)

Train for and bike another half century this year. The goal here is to do it in less time than my first half-century. I don't care how much faster I do it – it could be 10 minutes, it could be an hour. The point is to become a stronger cyclist.
Throughout the year, average at least 3 workouts per week, at a minimum of 30 minutes each. I'd like 1-2 of those workouts to involve resistance training…this could be as simple as doing the EA Sports workouts, or I could pull out the Buff Bride workouts again, if I get bored of EAS.
Abolish pop for two weeks in January. I know I won't give it up completely forever…I've tried that before, and then binged on Diet Coke for weeks afterward. The key here is that I need to regulate it better. I want to start by quitting for 2 weeks. Maybe I'll see that I don't need it…hopefully I'll at least figure out a way to live with it peacefully.
Limit the sugar. This can be a huge one. It means cutting out the cookies and candy, but also looking at the pre-packaged foods I eat. I already refuse to by sweetened applesauce or fruits packed in syrup. Now I need to look at other places to cut it. I find that I become addicted to sugar, which starts a whole bad cycle of craving and eating.
Eat only when I'm hungry; have only "firsts" at dinner, then if I'm still hungry an hour later, have a healthy snack. These seem like such easy things, and they were habits for a while…the last time I lost 30 lbs, and it was easy to lose those 30 lbs…I felt like I wasn't working at it at all. It just takes a lot of conscious effort at first.
Okay, that's all I can think of off the top of my head. They sound so reasonable, and yet it's a little daunting when I look at them all at once. But one thing at a time.