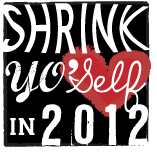 It's 2012! The-year-that-shall-not-be-named is over!!! I have decided that 2012 is the year of renewal. Part of that is jumping in with The Sisterhood on the first challenge of 2012, Shrink Yo'Self in 2012.
I'm a bit behind on the assignments so far, but I'm gonna catch up! First up? Goals for 2012.
As I said, my word for 2012 is renewal. This is for all aspects of my life. I'm looking for a new house this year, a new job, and a new attitude. I want to look at my non-scale victories rather than the scale itself — I will trust that the scale will follow.
So goals?
Exercise:

Continue seeing the personal trainer. I'm hoping to continue with twice a week, but it is a bit expensive, so as the year goes on (and we start looking at buying a new house), I may have to drop to once a week. Quitting altogether is not an option.
Finish the Couch to 5k training. I'm looking into 5ks to run in the spring with a friend — so April or May, here I come!
Train for another half-century bike ride. I'm hoping this will happen relatively early. Our schedule with the house might interfere with our being able to get in all the training rides we need, but I'm hoping to do one over Memorial Day weekend.
Participate in the Backroads Century again. This will be the 30-mile option again, but if we can get stronger at this ride, and do it a little bit faster than 2010, I'll count it as a victory.
Train for the Walt Disney World Half Marathon. My original plan was to walk it. Now I'm not so sure. I doubt I'll be running the whole thing, but there will be *some* running for sure!

Eating

Drink more water, drink less pop. I'm not going to cut out pop. I like it. But I can minimize it, and make it so I don't feel dependent on it. So, working up to 100 or more ounces of water per day.
Eat fruit! This has always been a struggle, but if I keep fruit in the house, and keep some on the counter in plain view, I tend to eat it. So that's it – 3/day.
Balance. I want to find the balance in my diet. This *might* entail joining Weight Watchers again, just so I have some accountability. Not sure yet. I know I won't completely cut out junk, but I really need to put it in its place – it is a treat, not a staple.
I don't know why, but I feel like I need a fresh start, a clean slate. So, even though I'm still down 10 lbs from my highest weight, for 2012 I'm resetting the scale.
Starting weight: 290lbs (from January 1, 2012)