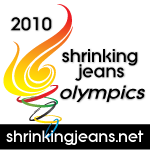 Yay for the ladies (and guys) at Shrinking Jeans. I have been struggling trying to get back on track since summer. I did actually complete the EA Sports Active 30-day challenge, but two weeks late. After that I had trouble getting into a workout routine again.
For the past few weeks, Kirsen has been poking me on Twitter to get me to work out. And thats gotten me working out. However, that still hasn't gotten me into a routine – I was working out because someone was pestering me, rather than because I wanted to do it for myself.
Enter the Shrinking Jeans Olympics. Okay, so it's only been two days, but for those two days I've looked forward to exercising – to trying to do my personal best at the event I've entered that day. Friday I did the 3-minute Wii Fit hula-hoop event, but continued on the Wii Fit until I had 30 minutes of workout time. Yesterday I did the 6-mile bike ride, pushing myself to ride at a higher level on the stationary bike than I usually do, and faster. After the 6-miles, I continued for another mile, slowing my pace as a cool-down.
I'm a little less comfortable with some of the other events (and don't have access to the venus or equipment for some, like running, walking – it's COLD out & no treadmill – and swimming), but it doesn't matter, we're all having fun over there.
I'm hoping to use this as a jumping off point to re-starting my normal workouts. Honestly, I don't care what form my workouts take, so long as I sweat for about 30 minutes at least three times a week. And biking yesterday reminded me that spring is just around the corner (though it doesn't feel like it, with 2 feet of snow on the ground), and it would be nice to be back in biking shape by the time it's warm enough to get out on the real bikes. I don't want to start over where I was last year at this time, but hopefully start the season stronger.