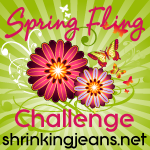 Okay, I've taken my starting weight for the Spring Fling Challenge. I'm not proud of where I am — have slipped from my last Sisterhood weigh-in last summer, going from nearly 30-lbs lost to only 15 lbs overall. Sigh.
But, that's why I'm back. I'm here to get back into it, lose those "slide-back" pounds and then keep going. And, I've got an awesome team to do it with – Team G, G4, or the Gorgeous Girls Gettin' Goin'!
So this challenge is 8-weeks long, and will include the 30-day shred. Part of me is excited about signing on to the 30-day shred again, and part of me is thinking, crap, no, stop. The one problem I found with the shred last time around was that it was just too relentless — afterwards I honestly resented exercise for a while. Fortunately it was spring last year, and I had biking to fall back to, so I didn't quit exercising, just shredding. The other thing I'm worried about is that I'm traveling a couple times in March for work, so it will be hard to get the shredding in then, unless I just bring the DVD and do it without the weights…or do it with light weights, such as bottled water.
Anyway, I'm starting out a little slowly with my goals. I seem to work best with a couple of realistic and do-able goals that will set me up for success. So, this week my main goal is to record everything I eat in a food diary. I'm not going to make statements about what or when or how I eat, just make sure that EVERYTHING is in the diary. Of course, this will probably have the benefit that I won't eat something if I don't want to put it in the diary, but also I won't technically be denying myself…
That's actually it for goals. I'd like to get on the exercise bike a couple times, and maybe do an EA Sports workout or two, but those will be bonuses.