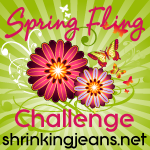 This week: -6 lbs (!!!)
Overall (since Jan 2009): -21 lbs
Holy crap! This just goes to show that my body is not happy with my behavior of late — it WANTED to get rid of some extra weight. Didn't think I'd manage 6 pounds, though. Yay me!
So, I set up an app on my Droid where I can count calories and keep track of all my food intake. It's called Calorie Counter (yes, very clever name), and it's connected with a website called FatSecret. I have to say I'm digging it so far – it's come up with a recommended daily calorie intake based on my current weight and my weight-loss goals. I can search for foods by name or brand or restaurant, but I can also scan a barcode to see if it's in the database already. I know that it's going to get old after a while, but so far I'm enjoying it…plus it gives me an excuse to play with my phone a little more. I was really good this week, and kept track of everything…even those donuts I mentioned yesterday.
I also started shredding with the Sisterhood on Monday, so I'm starting to get in regular exercise. I took before pictures, but they will NOT be seen by anyone but me (and my husband, since he took the pictures)…at least not until I have an after to compare them to.
Plans for this week include continuing to record my food, and keep my calorie intake within the RDI calculated by FatSecret. I'm not yet ready to declare that I must eat better foods, though have already noticed that the requirement to record everything seems to help at least some of the time. I'll continue shredding with the Sisters. I am on travel Thursday through Sunday, so this week will be a bit more of a challenge than last, so if I can at least maintain my weight, I'll be happy (though, am hoping to continue losing!!)
How'd you do this week?