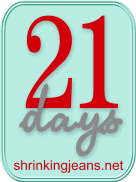 This week: -0.5 lbs
Overall: -27 lbs
I'll take it, but I'm a bit disappointed. I worked out this past week. I mean, I worked out all the freaking time (at least, that's what it felt like. I did my normal shredding Tues, Weds and Thurs before work. I also pulled out the Wii Fit again and did 30-50 minutes (actual work-out time) Mon, Tues, and Weds. Thursday I also played on the Wii, chosing a game that had me up and sweating, though not a traditional workout (Raymond's Raving Rabbids…it's fun! you should try it). Finally on Saturday my husband and I did a 32 mile bike ride. Did you hear that? 32 miles! Which took us nearly 3.5 hours. I was pedaling for almost 3.5 hours.
And a lousy 0.5 lbs after all that? I'm a little discouraged. Granted, it's that-time-of-the-month, but was still hoping a little more would show through. Hopefully I'll catch up a little next week.
Okay, what about this 21-day challenge? What new habits do I want to form?
I think the first should be more water. I drink two 20-oz diet sodas at work and very little water, so I'm going to strive to ditch one of my sodas in favor of water.
5-a-day fruit and veggies. I've been struggling with this one for a couple months now. Some weeks I get it right, and others I don't. It often depends on how well I do with grocery shopping, so my first task is to make sure I have enough of them in the house. The second struggle I have with this is on weekends. Often I do find weekdays when I have a schedule, but weekends I somehow forget to get them in.
That's it – I don't want to overload so that I feel overwhelmed and give up. Have a great week, everyone! I'll update on my new habits periodically.