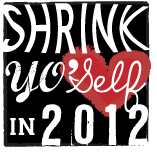 Still mostly on track, I think. I lost another 2.4 lbs this week for a total of -6 since the New Year. Definitely going in the right direction!
So, what's going right? I'm exercising – at last week I got out for a "run" on Friday and Monday. I'm working my way through the Couch to 5k program, and just finished week 5 – the final run for week 5 is a single 20-minute jog interval. And I (mostly) did it! (There's a hill on my route, and I had to walk the steepest part of it, but picked right back up at the top, so I'm counting it.) I also continue to go to a personal trainer twice a week for a 1-hour weights workout. So, total workout time: 3 hours.
I'm also eating fruit. It's crazy, I know. I often buy fruit, but almost as often, it goes bad in my house. This week, I'm actually eating them! And, as it turns out, I don't hate eating apples as much as I thought I did. I even finished all of the bananas I bought before they got too bruised! (That's rare.)
What's not going right? Weekends are still a struggle. I think I'm doing better. I'm not eating as well as I could, but doing better.
Weight this week: 284 lbs